Bahamas
Regal Bahama 2 night Bahamas cruise

2 night Cruise
Navigation for 2 night cruise
Indulgence Spa
Feel Refreshed
This is your voyage and you have the right to be spoiled. Treat yourself to one of our numerous back rubs and medicines to revive your brain, body, and soul. Or then again go for a full makeover at our salon and look as incredible as you feel as you have a great time ready.
2 night cruise

Palm Beach to The Bahamas Cruise
The Ship leaves from Palm Beach, every other day to go to The Bahamas.You can start boarding at 12 pm and the ship shoves off at about 5 P.M.
Call 954-969-0069 for reservations.
A Club or Pub for Everyone's Taste
Check out our Pub or just enjoy beautiful ocean views and fresh sea-air poolside, with great music and dancing on deck
Dining with Regal Bahama Cruise
Even the dining experiance is a wounderful fun filled one. feeling hot hot hot, it's party time come join the mombo train.This cruise is a very fun way to get to Freeport, Grand Bahama Island.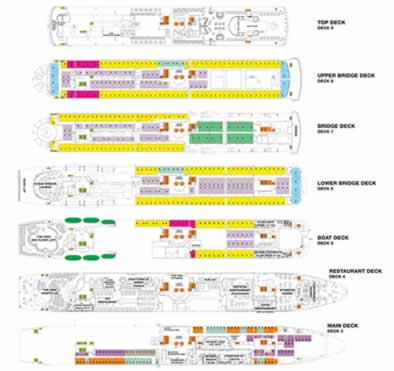 More than 6 Specialty Bar
Ocean Breeze Bar, Commodore Martini Piano Bar, Encore Lounge, Regal Room Lounge, Plunge Bar, Dancing Martian.
Eat all over the ship
Stellar Prime, The Yellow Elder, Ocean View Buffet, Plunge Grill, Ocean Breeze, in room dining, Admiral's Steak and Seafood, The Bull Gourmat Burgers, Lattetude caffee bar, Grand Cafe, The Rock Grill, The Crows Nest sports bar, A Slice Above
Par a dice Casino
Slots, roulette, blackjack, craps and even Texas Hold Em
Las Vegas style entertainment
More than just shows. singing, dancing, comedy, glow party on the sun deck.
Fitness center
The 2 night cruise fitness center is filled with the equipment you need to stay fit plus and oceanview
Indulgence spa
The most popular first stop on the ship. Get Rejuvenated
Shop at sea
Find gifts for all your friends and family
Interactive kids programs
the 2 night cruise childerns programs are always supervised kid's programs. This gives the parents a chance to enjoy the ship as the kids enjoy the time on the 2 night cruise.