2 day
Bahamas Cruise
2 day cruises $99
Based on 3 or more to cabin | Weekday Specials
Summer time Specials | Ask an agent for the details

---

Bahamas cruise
The Bahamas cruise ship
Her recognizable beautiful white top and deep blue hull, gives Regal Bahama Cruise, the attention she deserves. Regal Bahama Cruise offers a perfect Two night cruises quick getaway. Leaves nearby Port of Palm Beach and heads to the Bahamas. This mini vacation won't break the bank at about $149, and barely interrupts your work time. With that price, you can invite the whole family. If you need to make someone feel special, ask about one of the luxury suites. Now, imagine a tropical vacation and getting back to work by monday. Get your tropical getaway started and call one of our agents now Bahamas getaway | 954-969-0069.
Regal Bahamas Cruise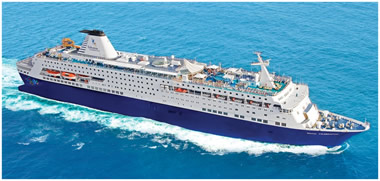 Four dining areas provide you with more food than you can eat, so loosen your belt sit down and dig in
Crystal Dining
Room The Maitre D will take you to your table in this dining room. Enjoy a five-course meal, try the wine service, served by our friendly wait staff. So many choices of fresh seafood, beef, chicken or vegetarian pastas. Don't be surprised if music is played by strolling musicians, that is the special touch. The Crystal Dining room is open for breakfast, lunch and dinner, at no extra charge.
Rio's
Rio's is not as formal as Crystal Room - combining a buffet style with a Brazilian steakhouse touch. If you like meat, this is your choice for dinner, as our Brazilian meat Carvers are serving up the cuts of meat. The buffet is about thirty feet long, then starts a separate dessert areas. Rio's is open for breakfast, lunch and dinner, at no extra charge.
Trattoria Di Gerry
Experience classic Italian food with ocean views. This is a casual setting and and has a variety of meats, pastas, and pizza choices. Trattoria Di Gerry is open for lunch and dinner, at no extra charge. The specialty desserts and beverages are extra and reasonably priced.
The Cove
This quiet small elegant dining area is perfect for romantic meals, or special occasions. The meals here are special Chefs signature. The Cove is open for dinner only. Reservations are required, and there is an additional charge of $25 per person.
The Regal Bahama Cruise offers travelers the perfect Two night cruises from Port of Palm Beach to Bahamas. We look forward to serving you.