One day Bahamas cruise or a two night Nassau Bahamas cruise or
a few hours Las Vegas style casino cruise
aboard
Discover Island Cruises or Regal Bahama Cruise or Sea Escape Casino Cruise
3 separate cruise ships, 3 different fun tropical vacations
Discover Island Cruises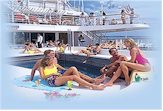 Freeport Grand Bahama cruise on Discover Island Cruises as low as $99
One day cruise or cruise and stay in Freeport Grand Bahama
Cruise to Freeport Grand Bahama from Fort Lauderdale, for the day or cruise over and stay in the Bahamas for as many days as you want at one of the Bahamas resorts such as the Our Lucaya Resort or the All-Inclusive Wyndham Viva Fortuna Resort. This 1200 passenger ship offers a great value vacation for as little as $99 (ask for details). The whole family will have a party with the birthday specials on the one day cruise. One Day Freeport Grand Bahama Cruise or Cruise and Stay in Freeport Grand Bahama and check out the Things to do in Grand Bahama
Regal Bahamas Cruises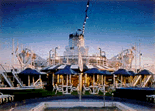 Cruise to Nassau Paradise Island on Regal Bahama cruise as low as $179
Two Night Bahamas Cruise to Nassau from Fort Lauderdale
Royal treatment awaits you aboard Regal Bahama Cruises. All aboard! Regal Bahama Cruises sets sail for Nassau, Bahamas from Fort Lauderdale Port Everglades. This Nassau Bahamas Cruise is an affordable cruise for the entire family. You and your family will enjoying fine dining, entertainment, Las Vegas style casino, pool, staterooms, children's programs, Captains reception and a full service Spa!
Sea Escape cruises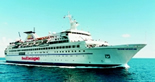 Sea Escape Casino Cruise - Port Everglades Fort Lauderdale as low as $30
South Florida's #1 Las Vegas style Casino A Ship Full of Fun! Daily day and evening party cruises from Port Everglades. Ask about our "Birthday Person Cruises for Free" special. Cruising to nowhere ... for you to relax and play. You can even bring the kids! A fun day or evening at sea featuring Las Vegas-style casino action, sumptuous buffet dining, and a ship full of activities, nothing beats a Sea Escape party cruise. Come aboard and enjoy South Florida's longest running, top entertainment attraction at sea. ! For the most spacious, fun-filled attraction at sea - there is no comparison.
---
Important information
Bahamas Consulate - Miami Tel:305-373-6295 for visa information.
Visa Not needed for USA and Canada.
Please see if your country needs a visa