Leaving Cruise Port of Palm Beach

Regal Bahama Cruise
Navigation for 2 night cruise
Cruise to Freeport on Regal Bahama cruise | low as $99.
Taxes not included, for details, please call 954-969-0069
$99 based on 3 or more to a cabin, weekday travel, or summer specials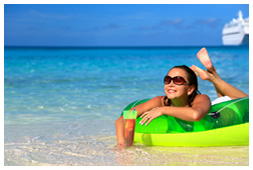 You will feel like a King when cruising our 2 night Bahamas cruise. So come on board Lets travel to the tropical island of Freeport Grand Bahama Island. We leave from Port of Palm Beach at about 5pm, stay on the ship for 2 nights, then on the third day at 9am or so we are back at Port of palm Beach. There are prices starting at $149. and that makes this a budget minded tropical cruise for the whole family. Imagine the entertainment, fine dining, gambling in the casino, swimming pool, health club and spa, children's programs, then top it all off with a Captains reception.
We can also help you with our longer cruises including Disney Cruise Line, sailing from Port of Miami on 3 and 4 night Bahamas cruises. We can book Hotel stays, of any length, Worldwide. Call us about the 3, 4 and 7 night cruises.
>> Leaves from Port of Palm Beach
>> Rates for Kosher meals. $25.95 per person
>> Video for Bahamas cruise
>> Video for Swim with dolphins
>> 2 night Grand Bahamas Cruise


Talk to an Agent Now!
For Directions to Port of Palm Beach
Call 954-969-0069 to speak with an agent!
Contact your agent today!
Para el website en Espanol oprima Crucero de 2 noches
Please ask one of our agents for rates and availability. 954-969-0069
---